Vinyl Graphics


Decals, Die-Cuts & Digital Printing
We offer an extensive choice of color including metallics, specialty, reflectives, and even the Pantone Color Match system
Static cling and "vision" window sheeting so you can see out!
Ready to be installed with an easy to use masking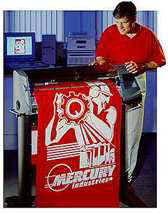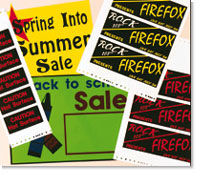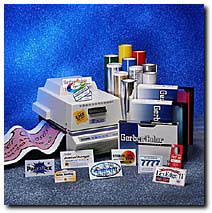 Gerber High Performance Series 220 Film: PANTONE® Colors Reference Table
We also offer the Avery Color Selector System for all vinyl graphics. Visit Avery online to learn more about the color choices available for your next project!
Removing old vinyl decals,
stripes and letters
In most instances, it is possible to remove vinyl lettering with no residual damage to the applied surface. While this is typically the case, different substrate materials can react in different ways, so if you're unsure of the resulting reaction, it's important to test an inconspicuous area of your surface before applying the following techniques to the entire area. The upside is that most surfaces, including vehicles, respond well to the vinyl removal technique outlined below, with no resulting damage to the surface.

(Note: When working with decals that have been in place for a significant length of time, there is the slight possibility that the paint around the decal will appear discolored or faded upon removal. Usually this only occurs in cases where the decal has been exposed to the sun for extreme periods of time. This significant sun exposure will result in a tan line effect on the surface, whereby the unexposed area under the decals will appear nice and shiny next to the faded, exposed surface.)

In the case of an old wooden sign, where the paint is already chipped and peeling, it is important to keep in mind that the paint will most likely peel off with the vinyl letters when you remove them.

If you intend to apply new vinyl to the surface, be sure to clean it thoroughly, then wipe it down with alcohol to insure that none of the adhesive remover is left on the surface

Heat the surface of the decal with a heat gun. Then take a plastic removal squeegee & scrape vinyl from the surface. See Fig. 1 (Note: if the vinyl is old & brittle, it will most likely come off in small pieces. If the vinyl is not that old you may be able to pull it off in bigger chunks.)

Once you have peeled all of the vinyl off, you will have to clean the adhesive off the surface with a product designed to remove adhesive without damaging the paint. See Fig. 2.

Clean the surface with soap and water then check to make sure there are no remaining pieces of vinyl or adhesive stuck to it. See Fig. 3.


Some Examples
Of Vinyl Work: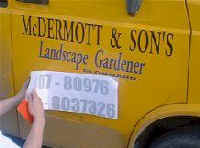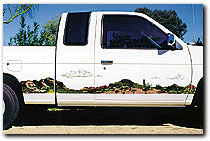 Vehicle Vinyl Graphics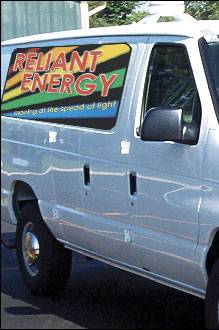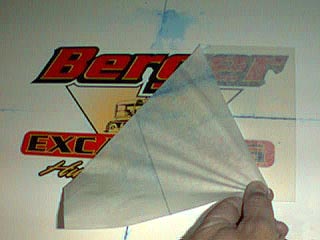 Vinyl Graphics - Applying Labels:
Mix a solution of washing up liquid and water
Wet the area the sticker will be placed on
While the surface is still wet, remove the sticker backing and apply the sticker (the solution will allow you to move the sticker around)
Once positioned correctly, use a squeegee or dry cloth to wipe over the sticker, pushing out any air bubbles
Once all the water/washing up solution has been removed, pull off the application tape and your sticker will be left on the surface
When installing vinyl, it is important that you apply the product to an adequate surface, one to which it will readily adhere. The following lists contain a brief summary of acceptable surfaces along with some surfaces that are not.

The good news is: Vinyl will stick to many surfaces. In determining whether your intended surface is adequate, keep in mind that, as a general rule of thumb, vinyl will stick to almost any surface that is clean and either smooth or nonporous.
Acceptable surfaces
Glass
Metals (Must be painted with a smooth, glossy enamel.) One Shot paint recomended.
Vehicles (Must be painted with a smooth, glossy enamel.)
Vinyl (Such as Banners, Canopies, flags, etc.)
Plastic
Fiberglass (Must be painted with a smooth, glossy enamel.) One Shot paint recomended.
Wood (Must be painted with a smooth, glossy enamel.) One Shot paint recomended.
Other Painted Surfaces (Paint must be smooth and glossy, vinyl will not stick to oxidized, faded, or peeling paint) One Shot paint recomended.
Not recommended surfaces
Cement
Raw Lumber
Oxidized or faded paint
Peeling paint
Rubber
Raw Metals
Oily Surfaces
These lists are not comprehensive and there are other acceptable and unacceptable substrates than those listed above. Again, when in doubt, apply the rule that states vinyl will generally adhere well to smooth, glossy and clean surfaces. Rough, dull, peeling, porous or dirty surfaces, on the other hand, will likely not produce an acceptable vinyl application.