Architectural Sign Systems
Choose from our standard sign systems or from varied material options and colors for a custom sign developed to your specifications.
Architectural ADA, Signs to Comply
Whether retrofitting existing signs or designing sign systems, we offer everything from a standard line to extensive custom capabilities.

This unique system which comes in a variety of styles includes everything from directories to ADA compliant room numbers.

A simple, changeable system that uses various types of message insert strip materials for ease in changing messages.

Series S3000
A changeable system with reverse beveled acrylic inserts that may be used with or without a Snap Plate frame.

This unique system can feature the look of a brushed metal background combined with a border color for a variety of upscale images.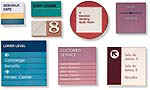 A modular system consisting of a series of frames, face plates and component products, offering flexibility in your signage needs.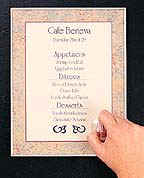 This system has a selection of frames which allow for an insert plate and a protective snap plate to be easily installed and frequently changed.
Custom materials, shapes and sizes can be produced per your specifications utilizing a variety of fabrication techniques.