Custom Digital Decals/Graphics
State of the art digital printing

Decals come in varied sizes, materials and a wide variety of standard wordings or you can design the decal to fit your needs. Decals are pressure sensitive vinyl which can be applied to any clean smooth surface. These decals are good for both indoor and outdoor use.

We offer personal service for virtually any type of decal you need utilizing digital printing . Our design team can create a unique design for you working from almost any computer file you provide, or work from text and logos to develop your digital decals. We have complete libraries of most common safety and warning decals.
For Complete Digital Imaging Information please see our Informative Digital page DIGITAL.HTM
Below is examples of Custom Digital Decals/Graphics and more detailed information
regarding what we need from you along with our specifications.
E-Mail for Custom Manufacturing and Pricing mailto:info@olysign.com
OR

VISIT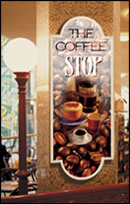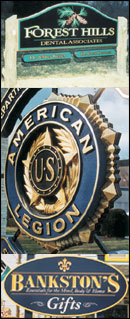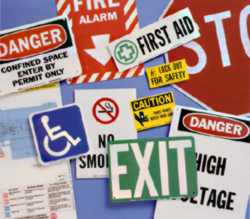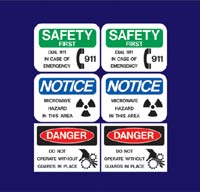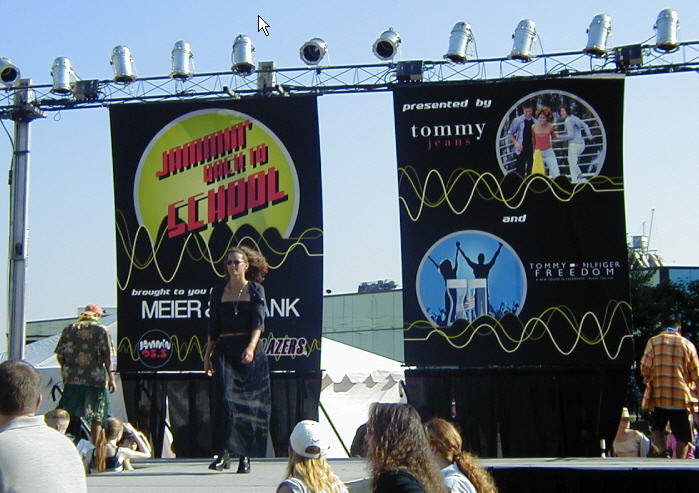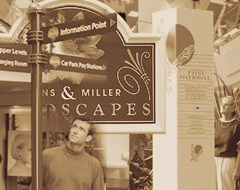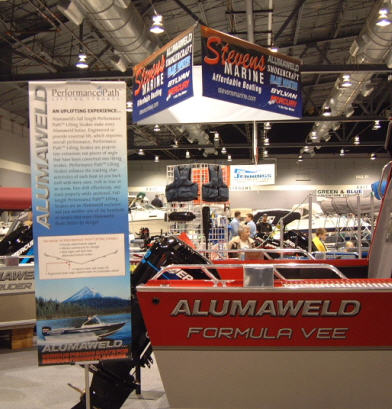 Flexible, self-adhesive Labels/decals are easy to apply - just peel off the backing and press to any clean, dry, smooth surface.
Custom vinyl cut decals & graphics create a professional, hand painted appearance perfect for a sign, product, window, auto, truck or other vehicle. Vinyl graphics are provided on pre-spaced and pre-masked sheet for easy and professional application
Vinyl Color options:
Vinyl available in white, black, red, blue, green, metallic silver, and metallic gold. Material changes are possible at no additional charge (must be in 50 unit multiples)


Additional Colors can be Printed!

Minimum Quantity:
We do not have a min qty, but do have a min dollar amount due to set up cost. Please e-mail us for estimate. Quantity price breaks are at 12, 25, 50, 125, 250, 500, 1000, 1500, 2500, and 5000 on up.
Material:
2 mil. premium cast vinyl. Durable and dimensionally stable - won't shrink or crack and withstands extremely hot or cold weather, 7-10 year lifespan.

Graphic Limitations:
Lettering must be a minimum of 5/16" and stroke lines at least 1/16" thick. Simple and open type styles and basic graphics are recommended for this computer cut process. At least 1/8" margin around graphics should be incorporated in overall size when requesting pricing. Pricing is based on the total square inches (length X width) of overall sheet. All design layouts need to be reviewed for proper pricing and suitability for this production method.


Pricing:
In order to price your request we need to review your artwork to determine if the graphic is suitable for vinyl-cut decals. Please provide the length and width of your graphic including an 1/8th inch edge around the border. We will inform you if there are any problems or concerns with your graphics and if slightly reducing size would move you into a lower pricing bracket.


Production Time:
10-14 working days from approval of design layout.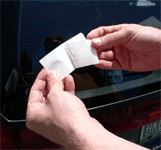 *1. Rub thin side to help adhere art, then peal slowly.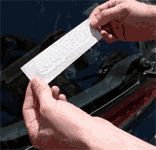 2. Flip Art so it is seen through thin paper correctly read.
3. Align art without touching surface.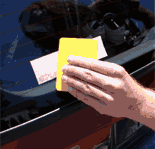 4. Smooth out using squeegee (take your time, work from the center out).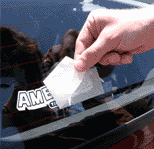 5. Peal of thin paper slowly.
6. Admire a job well done!
*There is a different procedure for applying larger decals, follow the instructions that come with the sticker.