Gallery
We are proud to offer the
Slatz system. Available with many options shown. contact us for ordering and price information.

The Slatz concept is one of simplicity and versatility, providing a total sign program in one system. That is why Slatz has been a popular choice among sign makers for over 20 years. Whether a single self-standing desktop sign or a complete office sign program, Slatz can be created from a minimum of components.
Features and Benefits
• Versatile and fully interchangeable
• ADA compatible
• Directories of unlimited size
• Engraver laminate acceptable
• Quick and easy assembly
• Easily customized
• Paintable
• Accepts cut vinyl or EDGE graphics
• Tamper resistant

Typical Uses
• Hospitals
• Universities
• Office Complexes
• Museums
• Stores
• Shopping Malls
• Government Complexes
• Libraries

Type A Sign System
Type A signs are made up of two parts: a Faceplate and a set of End Caps. The End Cap has been precision molded to snap tightly to the Faceplate. The End Cap conceals the mounting hardware and the cut edges of the Faceplate. Add a stand for desk signs or snap two plates back to back with our Popper to make a projecting or suspended sign. Should the width of the faceplate require extra support, simply snap off the side of the End Cap and place behind the extrusion.


A - Faceplate
B - End Cap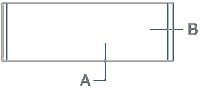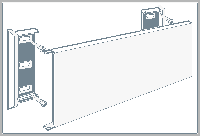 Type B Sign System
Type B signs are your basic directories. Each sign is composed of the following: Sidetracks, Multiclips, Trimplates, Faceplates and Track Caps. Sidetracks hold the Multiclips to which Trimplates and Faceplates are snapped. Each track is finished at its top and bottom by Sidetrack caps. By altering the combinations of styles of Sidetracks, styles of Trimplates and primary track caps, the user can choose from directory framing options. The basic Type B sign can be customized further by choosing one of the following: create multiple columns using Divider Track, choose Double-Sided Sidetrack for projecting and suspended directories or use Standard Track and frame a directory in any number of ways.

A - Trimplate
B - Faceplates
C - Sidetrack
D - Sidetrack Cap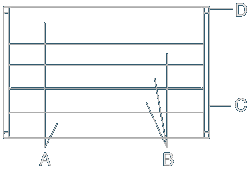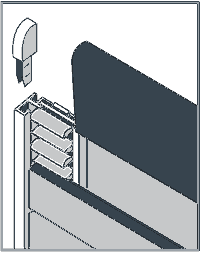 AVONITE SIDETRACKS
Customers choose an elegant Slatz directory by choosing custom Avonite sidetracks in four styles and four colors. Custom wood sidetracks are available as well in two styles.Note: use Square Trimplates.
Frame Style Options:
A) Quad B) Angle C) Victorian D) Bevelled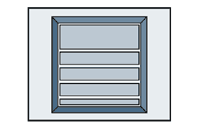 FRAMED DIRECTORIES
House your Slatz directory in a custom frame or border that is custom fabricated, or select Trim Frame from our product line. The versatility of Slatz ensures a unique sign every time.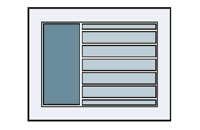 CUSTOM PANELS
If you require a Slatz Faceplate size beyond the typical offering, we will supply custom aluminum panels. The .040" aluminum can be incorporated into any directory with ease.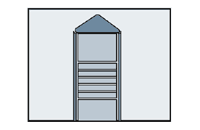 PYLON DIRECTORIES
Slatz Faceplates are the perfect addition to any style pylon sign system. The versatility of our line, Sculptura, allows the fabricator to remove a panel and replace it with Slatz components.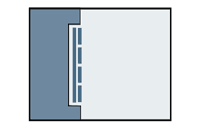 RECESSED DIRECTORIES
Make any Slatz directory vandal-resistant by recessing it into a wall. At 5/8" thick, there are no worries when replacing these unique Faceplates since they are removable from the front.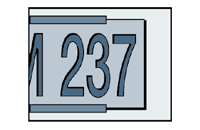 ENGRAVING STOCK HOLDERS
Slatz engraver extrusions have been designed to hold 1/16" engraving stock. Choose the extrusion and hardware based on the sign type needed.