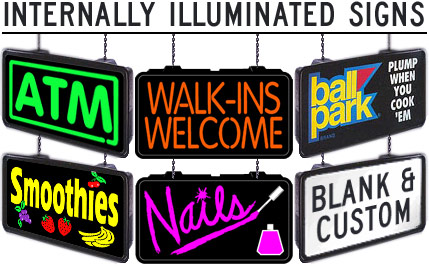 Brightest backlit window signs available today (2200 Lumens from 2 circular GE 22w bulbs).

"nested bulb" design dramatically reduces breakage during shipment.

Virgin ABS plastic light box.

Designed to sit on counter or hang.

Acrylic sign face that lights bright and stands the test of time.
Avoid the costly maintenance troubles of "Real Neon" with these brilliantly lit simulated neon signs. These signs are NOT "REAL" neon signs. They are a unique & cost effective "internally illuminated cabinet" style sign. These signs are bright, but nothing is as bright as a neon signs, but neon signs cost hundreds of dollars to repair (if the tube breaks) and these signs can be repaired for about $10 if the lamp breaks. At $97.50 (for the 13"x24" signs) , these signs are also much less expensive than most neon signs.

The graphics are made using a special U.V. treated, "neon formula", inks. These sign have an ON/OFF switch. They will stand on a counter, or you can hang them using the S-hooks and chains that are included with the signs. These signs are not designed to be used outdoors. They are designed to be used indoors. They can be displayed in a window so that they can be viewed from outside. If you already own our 13"x24" sign and you want to change the message, simply order a replacement sign face and remove the old sign face and quickly change the graphic on your sign without any special tools. These signs have a 11 foot power cord and they are ready to plug into a standard 120v wall outlet. The lamps typically last 15,000 to 18,000 hours and replacement lamps can be purchased at most hardware stores for around $8.00.
Please E-mail for Current Pricing and Availability.
mailto:info@olysign.com
OR VISIT OUR ON-LINE
DISTRIBUTORSHIP
OR
Signs Sorted by Industry

General Titles
Dry Cleaning Signs
Electronics, Communications & Music
Jewelry, Financial Services and Check Cashing
Restaurant, Concession and Convenience Store
Beauty and Hair Care
Floral and Gifts
Packaging and Printing