Reinforced Corners



Highly recommended to extend the life of any banner. Banner corners may be
reinforced with additional material for a seamless look and increased durability.
Reinforcement can be added to both back and front if desired.
$4.00 per corner (back only) $6.00 ea. (front and back)

Velcro
Banners can have the addition of "pressure sensitive" velcro or "sewn-on" velcro to
accommodate the versatility needs of your banners. Whether it is to change the
copy or the color, the velcro can allow you to have several banners in one!
Hook or Loop $2.00 per foot

Hem with sewn-in webbing
Banner hems may be reinforced with sewn-in webbing to add strength and rigidity
on sides of any banner. Webbing can be used in combination with any of our
fabrication methods.
See square foot pricing 'B' per material

"O"or"D" rings, Snap Hooks
Sturdy polished nickel-plated steel extras can be sewn onto your banner for total
installation flexibility. Whether you need special durability to attach your banner to
a tightly stretched cable, sturdy rope, or for an easy rope tie down, any of these
custom applications will enhance your project.
$3.50 each

Pole Pockets
Pole pockets are recommended when a banner is to be hung from a ceiling, require
a weighted bottom, will have an inserted carrying pole for parades, or rigid
mounting. Pole Pockets can be any size required to accommodate pipes or poles.
**Remember to give the diameter measurement of your pole and the "copy size" of your banner to our
customer service representative, so that they can determine the appropriate amount of material needed.
See square foot pricing 'B' per material

Heat Sealing
Some banners can be seamed together or hemmed with a special heat producing
procedure that bounds the material for a smooth finish. Highly recommended for
oversized banners.
Prices can vary, contact customer service representative for a quote.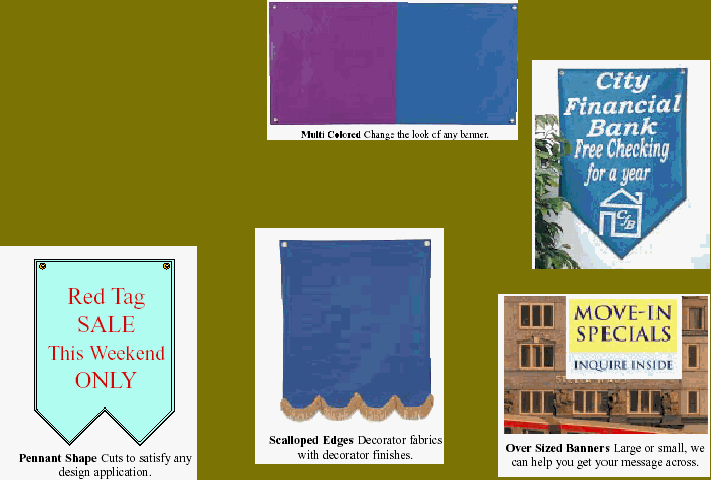 Visit us in Port Angeles

Member Port Angeles Chamber of Commerce


What can we make for you?

"Special packages"
store on e-bay.


ARCHITECTURAL SIGN
SYSTEMS
Choose from our standard sign systems
or from varied material options and colors
for a custom sign
developed to your specifications